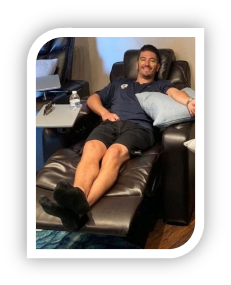 The exact mechanism for treating pain disorders and mood disorders is not known. Ketamine is an NMDA receptor blocker. Research shows it increases spine synapses in the prefrontal cortex and can also reverse the deficits caused by chronic stress.. Transient disinhibition of glutamate transmission, followed by compensatory glutamate bursts at the neuronal synapse may also be involved. Pain disorders and mood disorders are very complex. This maybe why we see different responses to different SSRI's.
The Ketamine Clinic of Los Angeles states "an average of 83% of our depressed and mood disorder patients get substantial relief from their symptoms. About 70% of our pain patients benefit."
"Antidepressant Ketamine more effective than electroconvulsive therapy" Fox News, Feb 24 2014
"Cleveland Clinic Unveils Top 10 Medical Innovations Most Likely To Be Game Changers (in 2017)" Listed #7 Ketamine for Treatment-Resistant Depression. Cleveland Clinic Oct 6 2016
Ketamine infusion therapy is used for major depression, PTSD, fibromyalgia, CRPS, chronic pain syndrome, chronic anxiety and more...
Some types of migraines
Some types of nerve and backpain
Traumatic spinal cord injury
Post operative pain
Neuropathic pain
Fibromyalgia
Complex regional pain syndrome
Phantom limb pain